Baby Mucus + Cold Relief, 4 fl oz (118 mL) Bottle
45422
This is a carousel with one large image and a track of thumbnails below. Select any of the image buttons to change the main image above.
Baby Mucus + Cold Relief, 4 fl oz (118 mL) Bottle
45422
Size:
1 | 4 fl oz (118 mL) Bottle
- In Stock
More Information
Drug Facts
Ingredients:
Active Ingredients/Purpose:

Bryonia Alba 6X HPUS (stubborn mucus in throat, cough with mucus)
Euphrasia Officinalis 6X HPUS (cough with mucus in chest)
Hepar Sulph Calc 12X HPUS (cough up mucus, mucus rattle with cough, stubborn mucus in chest)
Natrum Muriaticum 30X HPUS (accumulation of mucus in throat, cough up mucus)
Phosphorus 30X HPUS (cough with mucus, chest congestion)
Pulsatilla 6X HPUS (accumulation of mucus, discharge of mucus, loose cough)
Rumex Crispus 6X HPUS (runny nose, sneezing)
Silicea 12X HPUS (nasal congestion)

Inactive Ingredients:

Citric Acid, Glycerine, Glycyrrhiza Extract, Purified Water, Sodium Benzoate.
Directions:
Shake well before using.
Measure only with the dosing syringe provided.
Do not use dosing syringe with other products.
On dosing syringe, mL = milliliter, tsp =teaspoon.

- Children under 6 months: Consult a licensed health care professional before using this product.
- Children 6 months to under 1 year: 2.5 mL up to 4 times per day (every 6 hours)
- Children 1 year to 3 years: 5 mL up to 6 times per day (every 4 hours)
WARNING:
As with any drug ask a doctor before use if pregnant or breast-feeding. Consult a physician if:
- Symptoms persist for more than 72 hours or worsen.
- Inflammation, fever or infection develops.
- Symptoms are accompanied by a high fever (over 101 F)
- Cough tends to recur or is accompanied by a high fever, rash or persistent headache.

Keep this and all medications out of the reach of children. In case of accidental overdose contact a medical professional or Poison Control Center immediately.

Do not use this product for persistent or chronic cough such as asthma, smoking or emphyserna or if cough is accompanied by excessive mucus, unless directed by a licensed medical professional.

A persistent cough may be a sign of a serious condition.
Other Information:
"HPUS" indicates the active ingredients are in the official Homeopathic Pharmacopoeia of the United States.
PipingRock's Passion for Quality is Backed by In-house Advanced Analytical Testing
PipingRock guarantees the highest quality because we design, manufacture, and test our supplements in our own state-of-the-art facilities.

Non-GMO Promise
At PipingRock, your health is our #1 priority. Genetically Modified Organisms (GMOs) are present in many dietary supplements, even though they have not yet proven safe for long-term consumption. PipingRock's commitment to bringing you safe, natural, premium-quality ingredients only does not allow for GMO uncertainty.
100% Satisfaction Guaranteed
We stand behind the quality in our products. If you are unhappy with your PipingRock product for any reason we will issue a full refund in accordance to our Return policy.
Baby Mucus + Cold Relief, 4 fl oz (118 mL) Bottle
45422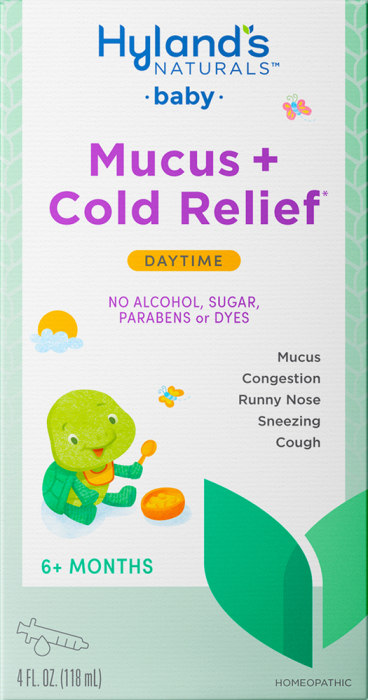 Baby Mucus + Cold Relief, 4 fl oz (118 mL) Bottle
45422
Size:
1 | 4 fl oz (118 mL) Bottle
- In Stock